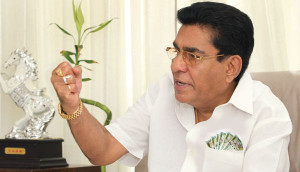 Mervyn Silva has accused RnB pop sensation Bruno Mars of plagiarisation following the latter's use of the term 'I'm a dangerous man with some money in my pocket' in his recent hit song 24K, despite the former MP claiming he has been using it for over a decade to bend people to his will.
Speaking at a press conference in a bid to gain some media attention, Mr Silva said, "I've asked my lawyers to get in touch with Mr Mars and ask him to acknowledge that he has plagiarised my favoured catchphrase and also pay an appropriate royalty fee for the continued use of the term. Anyone who brushed up against me knew how dangerous I was and how much I could employ ill-gotten gains to wield power.  And like a typical Mudalali the money was always in my pocket."
"This is not the first Bruno Mars used Sri Lankans as an inspiration for his song. We know that Billionaire was written about any one of the Rajapakse family, Locked Out Of Heaven was penned after thinking about what will happen to Wimal Weerawansa after he leaves this earth. 'I'd catch a Grenade for you' was also composed after seeing the beauty of what Ranil did to protect his friend Arjuna Mahendran," he added.
Bruno Mars said "Why you mad, fix your face, oh it can't be fixed? Oh well then…."