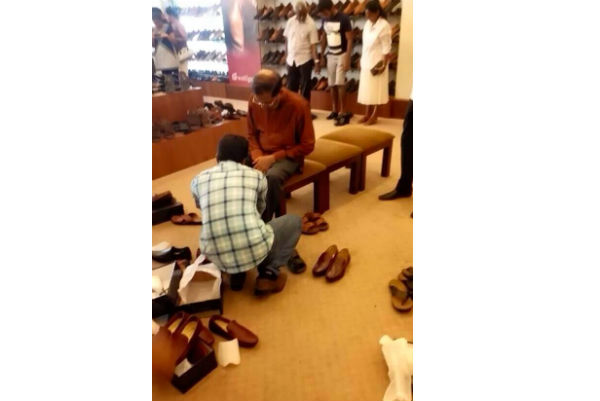 The President had to make an embarrassing U-Turn on Dutugemunu Street last afternoon after it was revealed that he forgot to take back the pair of shoes he was wearing, after purchasing a new pair in Kohuwela.
The Opposition were quick to respond to the news stating 'This Government are already making U Turns and of all people it was the President. Is this what Yahapaalanaya is all about?'
The President apologised for the embarrassment caused saying that the old pair had still use for about another 3 official functions.
He also apologised for mess in the vicinity where he was trying on shoes. A number of patrons questioned the manager as to why boxes and footwear were all over the floor for someone who wanted to purchase just one pair of shoes. One shopper, who wanted to remain anonymous (as he had parked on the pedestrian crossing outside), submitted the above photo to us. "The staff were bringing box after box of shoes and sandals, none of which seemed to fit, and there was no room to walk" complained another shopper.
In a related story, it was revealed that the former leader's Achilles Heel was his Ego and was a UK size 10.