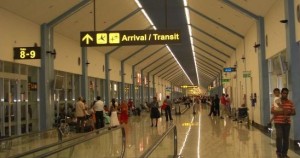 Sri Lanka's Immigration Department defended the actions of one of its staff based at Bandaranaike Airport, who was caught checking Facebook rather than the tourist's passport, saying that as part of a new policy, only people with a minimum of 500 friends would be admitted to the country.
The new policy, dubbed Friends: The One Where Tourists Arrive to Sri Lanka, was under a pilot scheme at the time the footage was taken by a passenger claimed authorities, adding that as such they could not divulge its existence to the public.
The Department have stated that the trial was a success and they would be rolling it out withing the next month. The authorities have also issued alternative criteria for entry including a minimum of 250 Twitter Followers, 75 curated Boards on Pintrest or 300 images published on Instagram. Despite several officials having Tinder profiles, they indicated that having one would not entitle entry in to the country although they might get lucky in other ways. Anyone caught with a Myspace profile would be deported immediately.
The incident captured can be seen here:
If video is not showing try refreshing page or click here for post