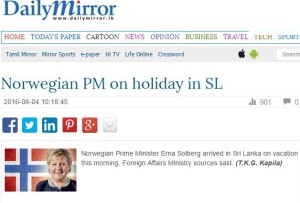 The committee that awards the Pulitzer Prize, recognised as the foremost award in journalism, this morning announced that for the first time a Sri Lankan publication has been shortlisted after the Daily Mirror's revelation that the Norwegian Prime Minister was on holiday in Sri Lanka proved to be a major scoop of interest to absolutely no one.
The committee said, "We normally award stories that generate significant public interest, but we thought that if everyone is interested in a story maybe there is something wrong with it. So we scoured the globe to find out if there were any stories that were of scant interest and discovered the story by the Daily Mirror. The level of reporting is outstanding. In just one sentence the publication was able to capture the story with such insight that we have rarely seen because generally, good journalism involves more analysis and background."
"Some people have said that this story is clickbait as there was no more information revealed beyond what the headline said anyway, but having investigated this further we have come to the conclusion that there were other articles and advertisements on the page that readers could enjoy so it was not really clickbait," the spokesperson added.
A spokesperson for the Daily Mirror said, "This is just the beginning of a new era at the Daily Mirror. We also have the scoop on where the Finance Minister of China will be taking his family to during the school holidays and where the Immigration Minister of Argentina is going to spending the Christmas holidays. We expect to win more awards for these stories that no other publication is willing to tackle."