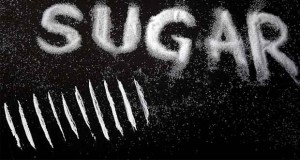 Sri Lanka Customs have intercepted a shipment of sugar with a street value of Rs 5 billion which was headed to the factories of leading food manufacturers who in turn add vast quantities of the diabetes causing ingredient into their products, which end up in the hands of the unsuspecting public. The haul was hidden in a container of cocaine, which was likely to inflict less harm to those who consumed it.
The head of Sri Lanka Customs said, "This is a major victory in the war against drugs. We know that sugar is much more addictive than cocaine and it makes cakes taste better. I once had a cheesecake full of Charlie and it was awful. Although I enjoyed dancing to music more after having a slice. But our team have done an excellent job to detect import of the sweet white powder and prevent people like Milo using it to make kids fat while promoting their credentials as a sports brand."
"By doing this it means also that we are being asked fewer questions about how we dispose of the less harmful cocaine and if that is how we fund our lavish lifestyles as customs officers," he added. "We also believe that the shipper made a typo which resulted in the container arriving on our shores rather than Colombia."
Meanwhile, it is suspected that those in favour of MMDA, which has recently been featured on the news, maybe on MDMA.