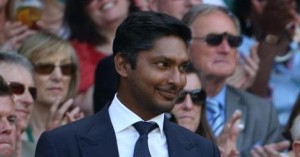 Kumar Sangakkara made his first outing in his new career as a member of the British Royal Family when he joined his fellow relatives in their personal enclosure, The Royal Box, during Wimbledon on Saturday.
Sanga, who has been chosen as the first outside person to be adopted by the Royal Family, will brother to Charles, Andrew, Edward and Anne once he officially joins after playing his final test series against India. Surprisingly, and despite his relatively young age, the Queen has named him ahead of Prince Andrew in the line of ascension, moving him to sixth place after noting several issues with The Duke of York, primarily that despite the rhyme he does not actually have Ten Thousand Men.
Kumar's official title will be 'Duke of Hazard' named after his favourite TV show while spouse Yehali will be given the corresponding Duchess title.
Speaking to press after the days play the Queen's husband, Prince Phillip, said "I've always wanted another son, although this chap seems a little tanned. Her Highness may have had him while we were on holiday. Impeccable English though. Being a fully fledged Royal, he can help me in my campaign to make fun of foreigners".
The Sri Lanka Tennis Association, having successfully installed a Royal Box in Wimbledon, are now campaigning for a Trinity Tent as well.