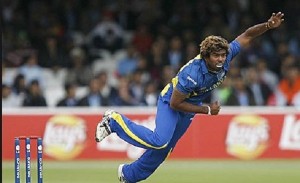 The Sri Lankan Cricket team today submitted a request to the ICC to allow them to bowl from only one end of the pitch in their remaining matches at the Champion Trophy, in a bid to curtail their slow over rate.
A spokesman for the Board said, "Why can't the batsman change ends? In all other formats of the game, like street and beach cricket, that is what happens at the end of the over. It's only in professional and national levels that there is this nonsense of changing ends. If the batsman switch sides then the time taken to adjust the field will also be considerably less, especially if there is no change."
"We are looking at some other options including fielding a total spin attack, giving Lasith Malinga a pair rollerskates for his run up and asking the ICC if we can bowl only 40 overs. We have also paid for Upul Tharanga to take up a time management course while we are in the UK, now that he has the time to attend one.  The players have also been told to keep an ear out for Kumar's commentary; when it begins to falter, it means that we have entered the final 10 overs of our innings," added the spokesperson.