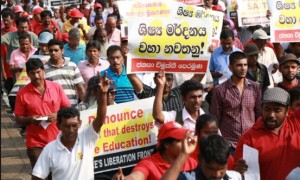 Sri Lanka Tourism has set to benefit from the increase in tourists looking to engage in protests as part of their vacation after the country was named as the number one place to visit following a year of incessant strikes.
A spokesperson for the Tourist Board said, "Because we can't innovate our communication, we are not able to creatively differentiate our communication from that of other countries and have resorted to using the obligatory elephant and leopard in our advertising. However, we have recently been told that there is a growing interest in people interesting in participating in strike action while on holiday, so we are primed to tap this market."
"Last year this market comprised of one person from Estonia but this year another gentleman from Kuala Lumpur said he was keen so we have seen a 100% growth in the market which makes it the fastest growing niche market of 2017. That is why we are targeting the both of them," the spokesperson added.
A member of the Sri Lanka Institute of Protests said, "If the Government grants them visas to protest with us, we will protest against that as well. We don't foreigners here coming and doing our job."