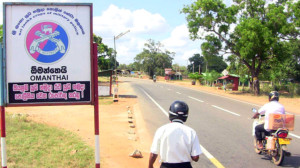 The UNP have decided to stamp their own mark on the country's road network system by making its first bold move and reducing travel time to the North by 10 mins, having ordered the removal of the Omanthai check point.  The security stop, where members of the public were forced to make small talk with Police officers, has been removed after weary travellers complained they had run out of things to say.
The UNP were forced to make the announcement after voters began complaining that the previous administration had significantly reduced the time to time to travel to key areas of the country and that the new government were yet to even cover a pot hole.
An spokesperson for the Ministry of Highways said "This is a significant announcement in the road network development programme. We are happy to announce that people can now save 10 mins when travelling to the North. This frees them up to do a number of things – they can check Facebook 52 more times, upload 41 pictures of their journey to Instagram or watch the Sri Lankan Cricket team lose 6 wickets."
The ministry also confirmed that it is looking in to other means to help people save time on the roads including drive by Thambili, removing red lights and, controversially, get road works completed in reasonable time.