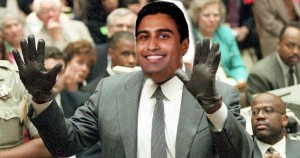 The gloves that OJ Simpson struggled to put on during his infamous trial have been found to fit Arjun Aloysius according to evidence presented by the Attorney General's department, who claim that this proves, without doubt, his involvement in the bond scandal.
A spokesperson for the AG's department said, "We presented several pieces of evidence that we believe conclusively linked Arjun Aloysius and Perpetual Treasuries with senior figures of the current Government and in turn the controversial bond auction a few years ago, from which they profited massively. But we also believed that if Mr Aloysius was innocent OJ Simpson's gloves would not fit, which is why the latter was not charged at the end of his trial."
"However, upon getting Mr Aloysius to try on the gloves we found them to fit like a glove. And to paraphrase Jonnie Cocharan, 'If the gloves fit, you must not acquit'. We urge the Bond Commission to find him guilty of defrauding the Government and also prevent him from acting in any future Naked Gun movies," the spokesperson added.