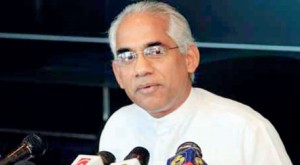 Santa has deemed that all Sri Lankan MPs have been naughty this year with the exception of Eran Wickramaratne who will be the only person receiving a gift from him.
In compiling his list of people who have been good and bad, Santa had to review the achievements, behaviour and promises of all SL MPs with the analysis revealing that only one MP was worthy of entry into the good list. In a Skype message Santa said, "There were a couple of borderline cases – Harsha De Silva almost made it but he misled the public about the VAT and also was on the COPE committee that looked into the bond scam but did not acknowledge any wrongdoing. Ranjan Ramanayake also had quite a strong case until his verbal assault on a journalist."
"The conundrum I had with Wimal Weerawanse is that he is so good at being bad that it was difficult to figure out which list he should be allocated to. His wife wrote to me and wanted a new passport which is strange since she already has about five," he added.
Leader of the JVP Anura Kumara Dissanayake is also said to have been included in the good list until moments before finalisation when footage of him pouting appeared at which point his name was transferred to the bad list since he was unable to heed Santa's warning that you 'better not pout'.