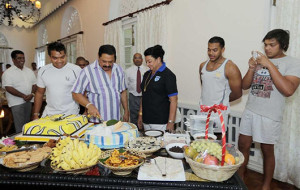 After the UNP claimed to have received a bill for Rs 9.4 million from the Hilton Hotel in Colombo for breakfast expenses incurred by the Rajapakses, the former first family immediately issued a statement saying they booked a Bed and Breakfast package and were therefore not required to pay for their morning meal.
"If you look closely at the email confirmation you will see we clearly booked on a B & B basis at the Hilton. It didn't state a limit on how much food we could eat and as there was a buffet on offer, we went for it like we were going out of power. We made sure about the booking because we didn't want to end up with egg on our face. Coffee anyone?"
Further inspection revealed that the cost of breakfast of was only 1 million ++++ which finally worked out to 9.4 million.