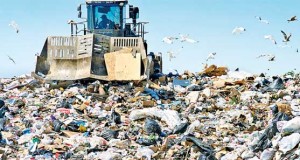 The Government today moved to assure the public that significant measures are being taken to dispose of the mounting heaps of garbage and vile stench emanating from the Rajagiriya area, although not a single Parliamentarian has shown any sign of resigning yet.
Although the previous landfill was cleared out about 1.5 years ago, several members of the public have complained that there similar levels of rot are forming at the site and there is an outbreak of pollution on a grand scale. The Head of the Environment Ministry said "We didn't think that a couple of rotten apples would contaminate the whole of Parliamentary landfill site, but we have to admit it is a disaster. We have been trying to clear out the garbage but the stench is too strong for our staff to approach the area. Last month a fight broke out in the heap and we thought the culprits would be taken away together with their litter. But it was only for a couple of weeks."
"We advise the public to proceed with caution when exposed to any of this litter as it is likely to cause nausea. We are also looking into a suitable site to dispose of this waste especially as it is approaching levels of nuclear toxicity. Some of the old garbage is still lingering on," he added
Politicians, despite their assurances, should not be recycled and discarded with well before their expiry date.