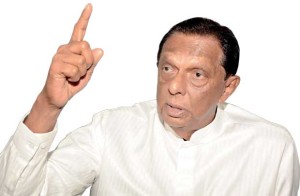 The Ministry of Disaster Management said that they have had to suspend all its efforts in flood affected areas of Sri Lanka in order to deal with re-emerged disaster that is Minister John Amaratunga, who appears to have once again has taken medication which has usurped most of the blood in his brain to an area of immense swelling causing him to speak incoherently.
The minister, who is considering having a surgery done to permanently insert his leg into his oral cavity, caused a major storm this week by stating that vehicle prices were being increased in order to prevent 'Unwanted People' purchasing vehicles. Speaking at a Press Conference, the Minister of Christian Religious Affairs said, "The Bible says that in BC times officials dealt with Unwanted People by increasing the tax on their shoes as there were too many people walking around. One dude even claimed to have walked on water. However in the modern era we want to deal with these Unwanted People by preventing them driving cars. People accuse me of being inconsiderate but I too can't afford to buy a car which is why I got a Duty Free permit and asked the ministry to purchase one for me."
A spokesman for the Ministry of Disaster Management said, "John the Amaratunga is a national disaster and he has to be contained. So far his open verbal floodgates have affected most of the population which had caused both outrage and bewilderment. We are aiming to contain this and have diverted Sujeewa Senanayake to plug his mouth with a banana."
The Ministry has asked people that the urgent requirement is medication which causes swelling as he lost all his tablets in the flood and is feeling a little limp.