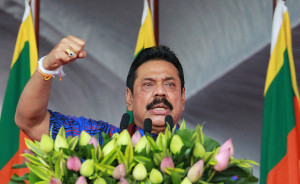 Head of the X-Men Professor Charles Xavier today said that the application they received from former President Mahinda Rajapakse to join the ranks of the X-Men was rejected after careful consideration mainly due to the lack of any powers and as witnessed at a recent press conference, the disabling of his Wolverine-like claws which would not extend on command.
A statement issued by the School For the Gifted Youngsters said, "We are the school provide a safe haven for those who have special gifts. We understand that members of the former regime were also in possession of special gifts, but these were mainly donated by other parties interested in securing tenders. Despite that, we considered their application especially that of Mahinda Rajapakse, who is said to have claimed to have the ability to make other people disappear. However since the receipt of the application, we understand that his powers have significantly declined and the only one not disappearing is him".
"We have been made aware that there has been a transfer of power and as such have received applications from someone called Ravi Karunanayake who goes by the mutant Sinhala name Economi-ko(?) and claims to be able to fix any economy with a Stanley (Obligatory X-men cameo) Wrench," the statement added.
The Professor also said they are considering John Amaratunga's application to be a power-wielding mutant citing his ability to make himself bigger in certain areas which is triggered when he gets horny.