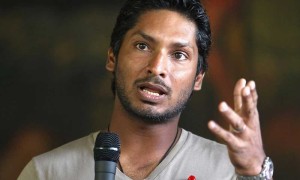 Organisers of the recent Enrique concert, which has turned out to be a tornado in a teaspoon, announced that they are planning to organise a follow-up show as means of compensating fans who attend the original gig, with two of the people behind the venture – Sangakkara and Jayawardene – performing Enrique's set list.
Kumar has decided to sing hits including "I Can Be Your Hero" and "Taking Back My Love", Mahela is already rehearsing his rendition of "Bailamos" and "Bailando", while they will perform "Be With You" as a duet. The warm-up act will be Sunil Perera who has penned a new song "Enrique's Songs Are All Baila Talk".
Speaking at a conference, one the of organisers said, "We already promised and put on a show that Sri Lanka has never seen before and as a result of the Enrique concert Sri Lanka will never see another show again. We accept that there were some minor hiccups during the show including the unavailability of Portello in the VIP bar and fact that people from different social classes had to mingle with each other. But we are going to compensate everyone by putting on another show, which will be just like the previous one but Enrique's songs may sound a little strange when they are sung by the guys. If you close your eyes though, the experience will be better."
People will have to queue for as long as a Sri Lankan batting innings lasts, so no complaints are expected.