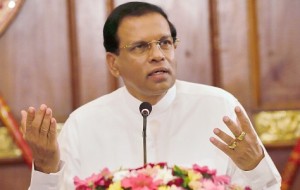 President Maithripala Sirisena today announced that he has urged the authorities to withdraw all support for anyone who displays their undergarments in public at entertainment shows, after hearing about the non-furore that transpired at a recent concert.
Mr Sirisena, who struggles to tuck his shirt in, said he was proud that as conservative Buddhist Sri Lankan overseeing the country's return to an archaic culture, he has never been to a concert in all his years as a human being and subjected to the debauchery of something people called "fun". "We as a Government have decided to cover up nepotism, corruption and the lack of justice but we must never cover up those who decide to throw their brassieres in public." he said to a crowd who were surprised to discover that the word bra was actually an abbreviation.
"We should not entertain foreigners in this manner" he added at the summit organised to promote tourism. "When I see our young people having fun it upsets me. The smiles on their faces, the excitement in their eyes, new ventures being initiated and the positive PR for the country – these are not values of a developing country that is aiming to grow over through the next few years, especially one with a focus on tourism." he said.
"I have spoken to the chair country of one of the UN's Human Rights Councils, Saudi Arabia, and they have suggested that the most humane way to deal with this issue is to organise a lashing of the promoters and we hope to conduct this at an event for which tickets will be available from Rs.5,000 to Rs 35,000 for VVIP viewing inclusive of unlimited beer" said Sirisena.