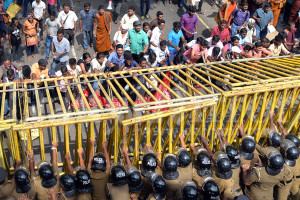 The Ministry Of Tourism said that is was buoyed by the news that Protestor World Magazine, a monthly publication that unfortunately gets published quarterly due to internal staff protests, has selected Colombo as the top place to visit this year and adding to the number of lists that the country has been featured in.
In an article that was half-written, after the journalist authoring the piece protested against the lack of varieties of tea available in the office canteen, the publication said "It has been an unprecedented year for protests in Sri Lanka and the local community have really taken to the streets in numbers to enjoy and develop the art of protesting. Whereas in the past they were protesting for significant matters like human rights violations and political dictatorship, this the islanders have been picketing for more trivial matters like maintaining the protectionism offered by the government,  pride of race and the price of broccoli."
"The protests have been so effective that measures including time taken to travel 100m pickets, stress levels amongst those people caught up in the resulting traffic and column inches covering these demonstrations are the highest we have seen this year. As a reader of this magazine and a fan of causing chaos and  disruption to people who have no connection to people not involved, we urge our readers to visit Colombo this year." the article further stated.
Meanwhile, the Ministry of Employment said that unemployment was down as a result of the increased political protests providing more jobs for those in the rent-a-crowd profession.