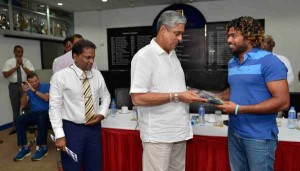 Back-door Member of Parliament Sarath Fonseka visited  the Sri Lankan Cricket team last evening to impart some of his experiences on overcoming challenges and suggested that the team consider signing an MOU with Australia, citing a similar tactic that he used to get back into a position of authority.
Field Marshal Fonseka whose ascent to power became a reality after agreeing to tie up with the ruling setup said, "It doesn't matter what you have achieved in the line of fire – if someone else if in power better to give up some of your principles to sign up with them. Look at what I did – after not getting anywhere in the election I hovered around the UNP head office with a MOU in my hand and they got fed up with me standing there that they signed me up. Basically, if you can't beat them get on their National List."
"I would have suggested signing up with India but it seems through brute force they are going to be coming for our jobs anyway – or so I have read. It wouldn't surprise me if Dhawan and Jadeja play for Sri Lanka in the next World Cup and after that take up jobs as senior programmers in the IT sector at one of our companies." he added.
The team are also expected to hear from a number of other ministers, including Ravi Karunanayake who will share his thoughts on keeping a low economical rate while John Amaratunga will discuss what to do when things get hard and the President is expected also get involved in showing how the players can celebrate without alcohol.