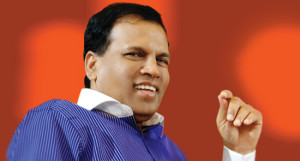 A girl today complained to her group of friends that she was suspicious the President was cheating on her after discovering that other women received the same text sent by him to her.
The girl was overheard venting to her girlies over lunch that 'The two timing bastard has sent the same message to 7 million other women, and it's obvious he was drunk when he sent it because I didn't understand a word and he had to add the year at the end of the SMS.'  The former leader, a certain MR. who was seated at the adjacent table, joined in to sympathise with the distraught woman adding 'The bloody bugger cheated on me as well. You shouldn't trust him'.
The girl was apparently more distraught after receiving a second drunken message immediately after adding 'He could have at least added a smiley in the second message rather than restating the year'
In a related story a picture of the President in a compromising position with nature on World Environment Day has been circulating on the internet. When asked why he was hugging a tree he simply stated 'Women are complicated'.  Men around the country concurred but advised him to switch his phone off in future when drinking.