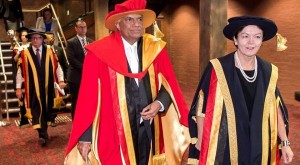 Dressed up like Dr Teeth, lead singer in the Muppet Show band Electric Mayhem, Ranil Wickremasinghe was awarded in Honorary Doctorate in Excessive Foreign Travel as Prime Minister from a university in Australia last evening.
However, both the GMOA and SLMC have said that although they may consider letting students from SAITM register when hell freezes over, they will not allow Ranil to register despite his doctorate.
A spokesperson for the GMOA said, "What the hell is going on? Everyone in this country will soon become a Doctor. Anyway, all this means is another reason for us to protest and in the process causing general inconvenience by blocking roads and causing traffic. This year we have achieved in the protest KPI set out by senior management."
Previous recipients of Doctorates from the University include Wimal Weerawansa who wrote a thesis on mis-using vehicles, Bandula Gunawardena for fake news and Ravi Karunanayake for how to get a job you are unqualified for.