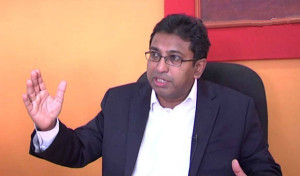 Former Deputy Minister for Foreign Affairs, Dr Harsha De Silva, yesterday broke the record for the most hi-fives given in one day after hearing that he has been re-shuffled from his current role to Deputy Minister of National Policies and Economic Affairs, which meant he no longer reporting to Ravi Karunanayake.
The Minister said, "Within a space of a fortnight I had one the saddest and happiest days of my life. The initial cabinet reshuffle of ministers left me with a boss who had been demoted from his previous role, where he went from one controversy to another. When I found out he was going to be the new Minister for Foreign Affairs, I was despondent. But it only lasted a couple of weeks and having received the news of by change of role yesterday, I was elated. I even opened the bottle of champagne I had been saving for the next Royal-Thomain, when we beat the boys from Mount."
"I went around hi-fiving everyone I came across, including members of the opposition party, who also said that I had avoided a potential pitfall. Before I knew I was told that I had broken the record for hi-fives in one day. There was a fifteen minute period when I was hi-fiving myself because I was so relieved," he added.