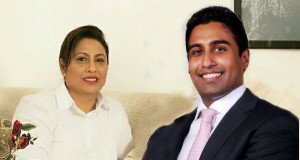 Wife of the former Minister of Finance, Ravi Karunanayake, today sought to clarify the news that she had made 320 calls to her former rent-free landlord Arjun Aloysius by stating they were just friend with different benefits.
In a statement, Mela Karunanayake said, "There are various types of benefits and the one I was after involved making several calls, but no sexting. We just wanted to stay rent-free in a luxurious penthouse in return for keeping our landlord abreast of proceedings from the COPE committee investigation into his fraudulent activities. All that was required was for me to call him occasionally – being every occasion the committee met – and tell him what happened. At no time did I breathe heavily into the mouthpiece."
"I know it sounds like a lot of calls, but I tried calling Ravi and wouldn't answer because he knows how long I ramble on for about mundane things. So I needed to speak to someone and Arjun was ever willing to pick up the phone. He is such good listener, especially when I talk about the daily proceedings of the COPE commission," she added.