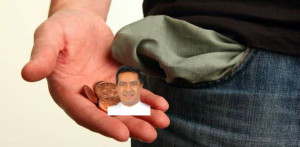 Parliamentary pretty boy and occasional MP, Sujeewa Senasinghe, today fell out of the pockets of financial fraud perpetrator Arjun Aloysius, after the former CEO of Perpetual Treasuries emptied his pockets to empty loose change.
Minister Senasinghe said, "I only went into the pocket of Mr Aloysius after I discovered that he had a considerable amount of loose change which he was happy to share with me in return for favours. I don't see anything morally wrong with this especially as I have no morals. I used the change in his pocket to benefit me personally and the last time I was so deep in there I got stuck. So I am glad he emptied his pockets."
"But I wasn't lonely when I was trapped in Aloysius' pocket as I had several members of the UNP there for company. Ravi was already in the pocket before I even went in, while Ranil also got jammed for a bit. He wears designer jeans so it was very comfortable, but it was clear that he had got an alteration done to hide some big notes with inner lining" he added.