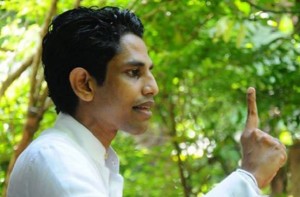 Having graduated Summa Cum L(ouder) from the now defunct Trump University of Alternative Facts, MP Chathura Senaratne today reminded the public that he fought for Sri Lankan Independence as a Spermatozoa in 1948.
The 15-year-old MP said, "My DNA profile is unique and most of you can't relate to that which is why the kerfuffle over my recent statements. My superior genetic code means I can behave like an adult despite my youthful age. It's like I'm a mutant and my unique ability is to make up facts. After helping DS Senanayake secure independence I helped various aspects of the country including culturally. My drawings as a two-year-old were on display at an art exhibition at the Lionel Wendt in 1960 and I was the captain of the national cricket team when we gained test status."
"People ask me why I had not stated these facts during my election campaign but to be honest I only started recollecting them once I received my PhD from the Trump University. My thesis was 'I once shared a beer with a Brontosaurus," he added.