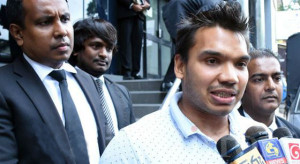 Having recently applied a year's worth of gel on his hair to keep it spikey, MP Namal Rajapakse today aimed to clarify the accusation that he fat shamed an FCID officer by calling him 'Bada' by stating that he was actually trying to tell a 'Yo Mama so fat' joke, during a recent questioning.
Speaking on the steps of the Prevention of Organised Crime division, the former President's son said, "This is just a simple slip of the tongue. I was trying to tell him a series of Yo Mama so fat jokes, to lighten up the mood, but I just ended up calling him 'bada'. I meant that in an endearing way like we all call that one guy in our batch (who is now getting prepared to sue the entire batch in retrospect). This guy has obviously taken it the wrong way got offended. All he had to do was hit me back with some of his own Yo Mama so fat jokes, cause it's true."
"I urge the people of Sri Lanka to also take offence to President Maithiripala Sirisena's statement suggesting that the country has an obesity issue and fat-shamed an entire nation, unlike I who directed it at one person," he added.