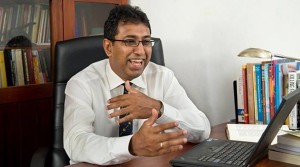 Deputy Minister For the newly designated Ravi Karunanayake Ministry, Harsha De Silva, urged the public that the President, who has failed to quell the racist attacks across the country, ignored the colossal waste of taxpayer's money being spent on luxury cars and unoccupied buildings, and not questioned the futile AG's office, be praised for travelling business class and enjoying the facilities of the VIP lounge using public funds during a recent foreign visit.
Dr Silva said, "People should remember that now there is freedom of speech, which they did not have before. It is good to see people are using this to complain about uncollected garbage all over the city, impotent police and perpetual strikes. It is a 'refreshing change' to see these are happening under this government as we hardly witnessed them in the previous regime. And freedom of speech is a great thing because some of our ministers can speak against free speech also, like when Ranil referred to the Daily FT as toilet paper"
"We can also say that the 'refreshing change' between the previous regime and this one is that the current President has to defend only one son's antics which include destroying private property and travelling on official engagements in a non-capacity. You must remember that in the former Government there were three such sons, so the situation has improved" he added.
The public has said that so far the only refreshing change has been the new flavour of Sprite.