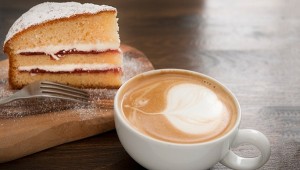 A man who was on his way to purchase a luxury penthouse suite at one of Colombo's new developments has ended up spending the entire amount on a cup of coffee and a slice of cake after stopping at a café in the city.
The depressed man said, "I had placed a reservation for the apartment and was en route to make the full payment when I felt a bit famished so stopped for a cake and coffee at a café. I wanted a simple black coffee and a butter cake. But they said they stopped serving simple items about ten years ago. Now you have to order a coffee that has bastardised Italian term in it. And the cakes had more layers than Lady Gaga's hair. So I ordered a couple of items and when the bill came it was more than the cost of the apartment."
"The waiter asked me if I wanted some hazelnut with the coffee, so I thought I'll indulge only to find out that the flavoured topping cost Rs 17 million. There was another guy in the café who stopped for an Oreo & Nutella cake and had to forego the sports car he was on the way to buy," he added.
In a related story, banks have been targeting guys going on first dates to coffee shops with low-interest loans to help avoid the embarrassment of not being able to offer to pay for proposed meetup.