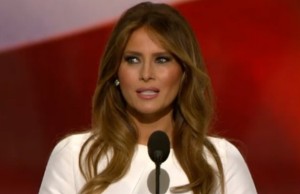 The plagiarism furore surrounding Republican presidential candidate Donald Trump's wife Melania took a further twist today when she asked her detractors if they are 'happy now', a tagline which had been written by Michelle Obama's speechwriter for former President Mahinda Rajapakse.
Ms. Trump who has been roundly condemned for almost verbatim quoting passages of a speech made by Michelle Obama as her own earlier this week, caused the most recent uproar when confronted about the allegations. Speaking at a press conference she said, "I get knocked down, but I get up again. Ain't never gonna keep me down. But all I really want to say to my critics now is 'Obata Sathathida Dan'?'. News anchor Dan Rather replied that he actually had a bad day due to a traffic jam in his area.
Mahinda Rajapakse, on hearing this, said, "We may have stolen lots of other things but one thing we did not steal is speeches. I made up all those statements that created fear and division in this country by myself as very few people had been able achieve that previously. I am disappointed that she has decided to use my catchphrase to further her cause. At least I hope she is happy now."
Meanwhile, musician Pharell has said told the former President that he has always been happy so no need to keep asking him.