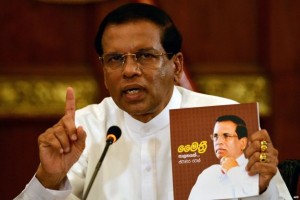 Despite several people breaking their New Year Resolutions within 24 hours of the New Year, they have drawn comfort from the fact that Yahapaalana pledges were broken in a much shorter period and said that if the Government can't keep their word then no one should feel bad about it.
A recent poll suggests that the number one resolution in 2016 is to lose weight closely followed by discovering whose Rey's parents are and if they can help people lose weight with the use of the force. A number of people have also decided to join a gym and in the process lost the equivalent weight of the value of the annual membership in cash from their wallet.
Maithripala Sirisena's brother was appointed as Chairman of Sri Lanka Telecom within hours of the President taking oath, while Ravi Karunanayake's brother in law was installed as the Chairman of Sri Lanka Insurance within 6 hours of his ill-informed appointment as Minister of Self Finance. However, it took 72 hours for Maithri and Ravi to break their respective New Year pledges of thinking before you talk and making budget policies that won't be reversed.