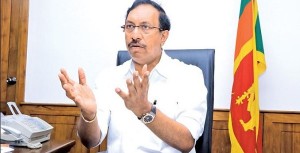 Disaster Management Minister, Anura Priyadarshana Yapa, today defended accusations about his slow response time when his presence is required, insisting that he always responds swiftly, like the time he was called and informed that his wife went into labour and turned up in time for the child's 5th birthday party.
At a press conference, the minister said, "I don't know what timeline you people operate in but to me responding immediately means to come when I feel that I have finished what I am doing, having enjoyed all the benefits on offer, and slowly ambling to where my presence is required. If I am to drop what I am doing then it could be messy. Like the time I received the call about the floods in Sri Lanka – I was in Mexico about to wolf down a burrito and if I have dropped it, my shirt would have been stained."
"So I had to finish it and then the staff told me that the next day they were having a special barbeque with cheesy nachos so it was important that I stayed and not offend my host, although even he asked me if I should not be heading back to Sri Lanka deal with the crisis in the country. I told I will respond swiftly once I land in the country after eating a few more enchiladas," he added.
"I was told that I was needed to deal with an explosion that occurred in an armoury last year, so if you can please excuse me as I need to deal with that immediately"