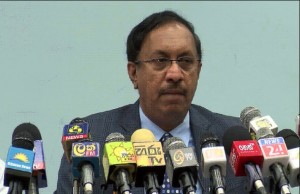 The Minister of Disaster Management has said that be rushed back from Mexico following the news that there was a flood in May 2016 that he needed to immediately attend to.
Mr Yapa said, "I was shown pictures of what happened in Sri Lanka last year and rushed back to deal with the issue. When I returned last week almost all of the relief work had been complete, primarily by the security forces and members of the public. That didn't stop me from claiming the credit though for the efforts of others. So I am glad I made it just in time for the 1st-anniversary press conference. If I didn't take the VIP exit at Katunayake I would have been late."
"Someone told me that the monsoon season had commenced this year, but I haven't heard about any floods in any part of the country and as Minister of Disaster Management, I am one of the first people to be informed of such events. So I'll be popping out of the country again for another jolly," he added.