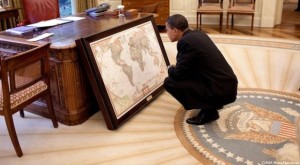 Citizens of the USA were provided proof that Sri Lanka, the land they thought to be as mythical as Mordor, actually does exist after it was confirmed that President Barack Obama would be visiting the island later this year.
The President, who has chosen not to alter the US constitution to give him a third term in office, said the he would be dropping in to Sri Lanka as part the Asian leg of his farewell tour and is expected to play some of his favourite hits.
We asked a number of Americans about the Presidents decision to visit the country: Mike from Omaha said 'Colombo is a fictional figure who was retired several years ago – don't know why he trying to visit him now',  Jenny from the Nebraska asked us 'Is Sri Lanka a new ride in Disneyland?', while Rick from Virginia inquired if 'India has a new name'.
We managed to track down a Sri Lankan living in Manhattan who said 'I am extremely pleased he is visiting Sri Lanka and would very much appreciate if he would bring a few packets of frozen Lumprai from the Dutch Burgher Union on the way back'
Meanwhile Donald Trump who has just announced himself as a presidential candidate has said that Sri Lanka is a fictional country and would be visiting Mordor instead if he were elected.