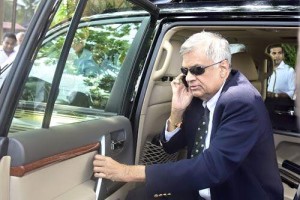 Ranil Wickremasinghe has decided to pay a flying visit to Sri Lanka, the country of which he is Prime Minister, as part of his World Tour titled 'No Problems When I'm Abroad' World Tour which kicked off on January 8th 2015.
At a press conference, the PM said, "Ever since I was signed up by the Yahapaalanaya broken record label, I wanted to go on tour because that would be the best way to avoid dealing with some of the difficulties in running the country and also apportioning blame to other cabinet ministers. So far the tour has been going well and I've visited several countries on tax payer's money. I was asked to play at Trump's inauguration but I was already booked to play a gig at DAVOS in Switzerland. I played my favourite hit 'Will I ever be President?'".
"It's a solo tour as the President of the broken record label told the other artists that they can't tour abroad, although despite being unable to sing, he will be going on jollies. Rapper Ravi$ was quite disappointed by this as it meant he could not take his money abroad despite asking others to bring their foreign funds back to Sri Lanka. And cock rock singer Rajitha Senaratne tried to riff his way on a flight but got caught up in a long immigration queue at the airport and was apprehended," he added.