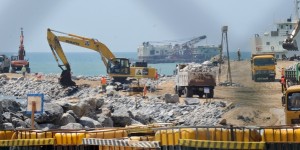 The Government today assured investors that the much vaunted Port City will not be affected by floods as most of the natural resources plundered to build the extended land in Galle Face had previously done a good job to help reduce the impact of floods in other parts of the country.
The Minister for Environment said, "The earth, rocks, sand and trees were just doing nothing across Sri Lanka, so we decided to put these natural resources to better use by employing them in the construction of Port City. We now realised that they would have helped reduce the impact of the current floods had they been in place. However, the good news is that this means there will be no flooding of Port City as the resources will be able to do the same job they were previously doing, as we only changed their location and form."
One person affected by the flood said, "The President promised us new houses, so I expect we'll be moving to the Port City soon. I don't know much about Colombo as I've only been twice, but there will be some familiar sights as I might be able to identify some of the trees and rocks from my hometown that were used to build it. It's nice that Mr. Sirisena is giving us some of the most prime land in the country to live in and not just handing it over to construct apartments that only rich people can afford."
_______________________________
AID IS STILL REQUIRED TO HELP THOSE AFFECTED BY THE FLOOD
If you want to donate towards one of the many relief activities, volunteer or for information please click here http://www.readme.lk/flood-relief-tech-2017/ or https://www.yamu.lk/blog/flood-relief-2017. They include organisations to which you can donate online with just a few clicks. Every little helps.
Also search Twitter using #FloodSL