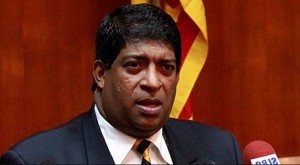 Former Finance Minister, Ravi Karunanayake, today accused a number of parties including his full-length mirror of trying to destroy his character.
Talking to journalists outside his office, the disgraced minister said, "Why do you think that the President was referring to me when he made his statement about the Bond Scandal? Just because my name is also Ravi Karunanayake and I was the former Finance Minister during the time the fraud was perpetrated, facts which he mentioned in his statement, this does not mean that he was talking about me. If staying rent-free at Arjun Aloysius' apartment is wrong, I don't want to be right. I just want to be rich and corrupt."
"There are several people who are out to try and smear my name. These include the former Finance Minister, the Former Minister for Foreign Affairs, the Husband of my wife and the father of my daughters. All these people should be reported for trying to create Fake News," he added.