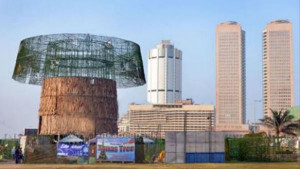 Despite yet another ill conceived and half baked plan by a Sri Lankan politician, the country is set to enter the Guinness Book Record for the tallest story about the world's tallest Christmas tree.
In a press conference hastily held in the shelter provided by the incomplete structure, Arjuna Ranatunga said, "We are extremely fortunate that this has turned out to be a debacle and in turn we are now in the Guinness Book of Records. We must commend our incompetence for the speed in which this has been achieved otherwise, we would have had to wait until construction of the tree was complete before determining if we had broken the record. Now we have been assured an entry and ahead of schedule."
"We think that there are more records that this partially built Christmas tree can contend for including world's largest public safety hazard and Asia's biggest clothes hanger. We are glad that the hard work in telling porkies over the years has finally paid off and we managed to sell the public a massive whopper of a fib," he added.
A spokesman from the Guinness Book of Records said, "We've heard some pretty far-fetched tales in our time maintaining records, but this is going to be one that stands for a long while. As soon as construction of the tree was halted, we were summoned to measure how big a con the public were sold in promoting this project. We've never seen anything like this, apart from when Sri Lankan politicians open their mouths."