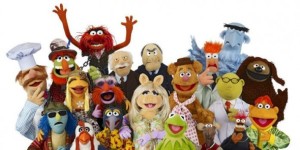 Kermit and his friends have admitted that they enjoy a bit of light entertainment in the evenings by watching the popular comedy 'The Government Show' featuring A grade Muppets, for guaranteed laughs.
The popular green amphibian and his on-off swine of a girlfriend said, "After a hard day's work producing a hit TV show, we need to wind down and generally enjoy a glass of bubbly lake water with a side of flies while watching TV. We recently discovered 'The Government Show' where a group of Sri Lankan Muppets try to run the country and it's hilarious. We have only one Gonzo in our show, but they have Rajitha Senaratne and Rishad Bathudeen. And Ravi Karunanayake's attempt to be a minister is much funnier than any of Fozzie Bear's dry jokes."
"And I am being out Diva'ed by Hirunika," added Miss Piggy.
We also enjoy the lyrics to the theme song to The Government Show, said Kermit who was singing along to that night's show –
"It's time to play the music
It's time to cut the lights
It's time to meet the Muppets on The Government Show tonight
It's time to put on make up
It's time to go on strike
It's time to raise the curtain on The Government Show tonight
It's time to get things started
But we won't get it right
We'll never get it started on
The Government Show tonight."