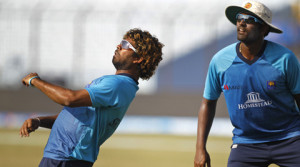 Two of Sri Lanka's leading cricketers, Thisara Perera and Malinga, today announced that they would partner and follow in the footsteps of their former teammates to open up a dining establishment, but aimed at people who share their love of carbs.
A source close to one of the players said "Although they have been teammates for a while, they initially didn't get along. They kept accusing each other of being overweight, but realised the irony as it was case of a pot calling a pot fat. That's when they discovered their shared love of carbs and decided to open up a restaurant"
Much like the other successful restaurant operated under the patronage of their former colleagues, the Ministry of Carbs will also be placed in a hospital although this will be a functioning one as they expect several cases of the instant obesity.
Dishes available include the Slow cooked pork belly, Let's not runner beans, Prawn slower balls and Rare pace beef steak. The top selling dessert is expected to be Podgy Pudding.
The PR company appointed by the duo issued a release saying that "People have been fed a myth that carbs are bad for you. They should have been fed carbs instead because actually myths are bad for you and are tasteless." Neither player was available for a comment as they thought it rude to talk with their mouths full.