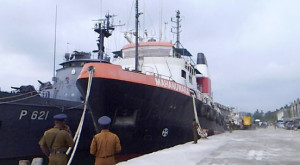 Minister for Law & Order, who has yet to appear on a single episode of the series, was today appointed Judge and Jury in the Avant Garde Case in adding to his position of Defence Council together with his ministerial position, making the case a more balanced affair. Balancing one side more than the other.
Mr. Marapana was also offered the position of State Prosecutor, and making it a full house, but declined on the grounds that the defence paid better. The Minster was questioned in Parliament as to how he could not see a conflict of interest in holding all these positions in the case. He said "You see by innovating the legal sphere and having partial position on this case in multiple roles in am being Avant Garde, just like my client."
Paraphrasing O.J. Simpson's lawyer Johnnie Cochran, Mr Marapana added "If the ship does not tilt, there is no guilt." Marapana was appointed as a Minister via the national list otherwise known as 'Friends and Family'.