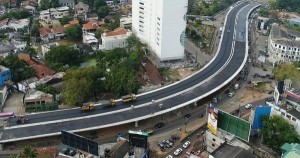 Rushed to open in time for the Local Government election, the Rajagiriya Flyover has been declared as the world's smallest highway by the Guinness Book of Records.
Local MP, Dr. Harsha De Silva said, "In three years we managed to build one stretch of elevated road and we have opened ahead of both scheduled and election time, the latter being the more important accomplishment. The means that our candidates will be able to use the highway for their convoys to get to more houses in this area and canvass for votes. We have been working round the clock to open it and even last night things were not ready. So we are now ready."
"The fact that there is an increase in the amount of road construction work going on around the Local Govt election is purely coincidental just like every election we have ever had," he added.