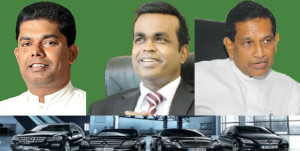 A number of Ministers and Deputy Ministers have defended their decision to request for luxury cars, stating that they will not be able to deliver the Yahapaalanaya mandate of driving this country into the ground and creating the resultant conditions for a car crash economy while benefitting themselves, without the luxury of having access to luxury cars.
Joint Cabinet Hot Air blowers Rajitha Senaratne and Gayantha Karunatileka, speaking at a press conference said, "We attempted to try and conduct our ministerial duties in non-luxury vehicles but it wasn't easy. A Toyota car that was ordered for a minister previously didn't have the seat warmer function, which caused him several issues. The outside heat forced him to retreat to his car to enjoy the air conditioning but after a while it became too cold and he wanted to warm his bum, but could not do so. In another incident, John Amaratunga complained that he could not adjust the height of the steering wheel when in the driving seat to accommodate an upright member who travelled with him."
"In countries like Singapore, the minister can manage with non-luxury cars because they have don't have big egos that require a Rs 35 million rupee car to haul around. Some people think that the Government does not have the money to purchase these cars which is exactly why we increased taxes on cars being purchased by the public," they added while browsing a catalogue of the latest models.
Meanwhile, a number of luxury car manufacturers have said that the Sri Lankan government lacks ambition and that more ministers and deputy ministers should be appointed together with luxury car allowances to tackle the problems facing the country.